Clicking on the links, or the image if applicable, will take you to the actual vendor where you can fnd more information and, if you wish, order the book directly from that website/company. If you ever find that a link does not work, please notify me and I will check what the problem is. Happy hunting!
Although Dumfries and Galloway is absolutely full of beautiful gardens, both public and private (many of the private gardens are open to the public on one or more days each year as part of Scotland's Garden Scheme, with the modest entry fee going to a charity of the owners' choice), I have not yet managed to locate any suitable books to recommend.
I can, however, recommend you visit Scotland's Garden, where you will find descriptions of many of the publicly accessible gardens and nurseries in the region along the Solway Firth, with links to their websites where applicable.
I also recommend getting hold of the booklet "Dumfries & Galloway in Bloom", which is available free from the Dumfries & Galloway Tourist Board. It contains full details on 23 gardens and nurseries in Dumfries and Galloway, and also tells you the gardens participating in Scotland's Garden Scheme, and what dates and times they are open to the public. (As I've just discovered from looking in the booklet, this information is also available online at the website of Scotland's Garden Scheme!)
By the way, if you are a garden lover (and you must be, or why else are you reading this page!), you won't want to miss the Galloway Garden Festival next year. This year's event, held in May at Lochinch Castle, Castle Kennedy near Stranraer, was the third event and proved immensely popular. If it is anything like last year, for a while after this year's event the website still display details for this year, but I suggest you just bookmark it and go back every now and then. Or alternatively, why don't you just bookmark this page and you can click on the link here!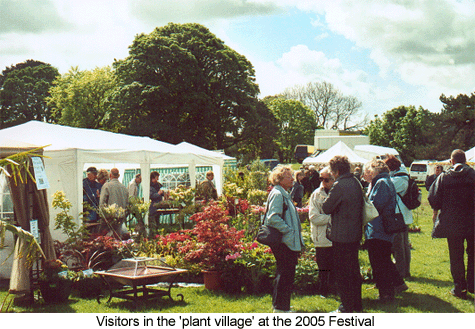 Oh, and another thing I discovered on taking yet another peak inside the above-mentioned booklet - there are a couple of other "major" garden events in the region, namely Rare Plant Fairs run by the Dumfries & Galloway Association of Gardens and Nurseries at Threave Gardens, Castle Douglas, and (doubles as a Late Summer Fair in August) Logan Botanic Gardens, Port Logan, near Stranraer. Admission is free to the plant fair, while normal admission charges apply to the Gardens (WELL worth a visit, ask my family!). Further information is available at Scotland's Garden, or by calling +44 (0) 1776 860231.

As I mentioned, with regard to actual books, this page is waiting for me to get to it, but meanwhile, for the widest selection of used and rare books anywhere, you might like to take a look at www.abebooks.co.uk - UK site of the world's largest network for used, rare and out-of-print books.
Here you will also find a number of bookshops based in Dumfries and Galloway itself. Recently while out for a walk one evening in Bladnoch I saw an old book through the window of a bookshop, and when I got home I looked for the book on this site, and even found the copy from that particular shop along with the price!