Clicking on the links, or the image if applicable, will take you to the actual vendor where you can fnd more information and, if you wish, order the book directly from that website/company. If you ever find that a link does not work, please notify me and I will check what the problem is. Happy hunting!

Galloway: A Land Apart
Andrew McCulloch
Hardcover 512 pages (October 2000), Publisher: Birlinn Ltd



Traditionally, Galloway extends from "the Brigend of Dumfries" to "the Braes of Glenapp". But Galloway is much more than simply a region of Scotland with a distinct history. This is a comprehensive history of the region. (Use the "SearchInside"TM feature to read the contents, index, and first five pages of the book!)
I am currently reading this book and I can thoroughly recommend it, the book is really VERY readable. If you live in the US, you will find that, even with the postage, buying it via the UK could save you quite a bit, as the US price is currently just under $50.


The Lordship of Galloway: C.900 to C.1300
Richard Oram
Paperback 256 pages (April 2001), Publisher: John Donald Publishers Ltd



This title offers interpretations of the origins and development of the kingdom or lordship of Galloway, tracing its evolution from the Norse diaspora, through the ever-shifting pattern of regional power in the 11th century, to the emergence of the lordship itself in the early 1100s.
I read this before I came across "Galloway - A Land Apart" (which incidentally often quotes the author of "Lordship of Galloway"). While packed with information on the pre- and early Middle Ages in Galloway, it is not as easy to read as McCulloch's book. I found myself having to go back a few pages every now and then to pick up the thread again. If you're not into academic books, it might be better to leave this one for the time being.


And now for something completely different....

Dumfries and Galloway's Last Days of Steam
W.A.C. Smith
Paperback 48 pages (February 5, 2003), Publisher: Stenlake Publishing



Relive the final days of the Port Road when people lined the route six-deep to wave the last service goodbye. The various branch lines of this vast area are also covered and the 55 photographs, all taken by the author, are accompanied by detailed captions. Steam engines feature throughout, working at locations including Beattock, the Beattock Bank, Beattock Summit, Canonbie, Castle Douglas, Creetown, Crossmichael, Dalbeattie, Dumfries, Dunragit, Elvanfoot, Gatehouse of Fleet, Greskine, Harthope, Kirkconnel, Kirkinner, Kirkcudbright, Loch Skerrow, Lockerbie, Moffat, Nethercleugh, Parton, Sanquhar and Stranraer.
I haven't read this one yet, but I recently read a related book about the lost railways of Galloway I found in the Whithorn library. The whole subject is fascinating, and near where I live you can still see the old bridges in some places and where the railway used to be. Some stretches can still be followed on foot (in fact the book I just mentioned describes such walking trips, though these days it is no longer possible to follow whole routes uninterrupted).

This isn't the book I meant, as it covers Dumfriesshire as well as Galloway, but could be worth getting if you find the subject of interest:

Dumfries and Galloway's Lost Railways
Gordon Stansfield
Paperback 48 pages (November 16, 1998), Publisher: Stenlake Publishing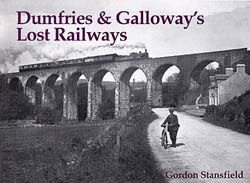 During the railway network's heyday in the late nineteenth and early twentieth centuries, Dumfries and Galloway was served by dozens of stations, many of them on the 'Paddy Line' from Dumfries to Portpatrick and its several branches. Only a handful of stations now serve this rural area. 51 pictures and a map record many lost stations, along with other features such as the Solway Viaduct, the level crossing at Gretna Township, the engine shed at Beattock and sidings and sheds at Newton Stewart. Station staff, passengers and rolling stock feature prominently too.

By the way, for the widest selection of used and rare books anywhere, you might like to take a look at www.abebooks.co.uk - UK site of the world's largest network for used, rare and out-of-print books.
Here you will also find a number of bookshops based in Dumfries and Galloway itself. Recently while out for a walk one evening in Bladnoch I saw an old book through the window of a bookshop, and when I got home I looked for the book on this site, and even found the copy from that particular shop along with the price!